Transport operators will soon be able to do more with contactless bank card tap data, offering passengers App-based features such as journey and payment history and customer service enhancements..
The partnership with payment provider Littlepay has seen the two companies working together to enable multi-operator and multi-modal contactless payments and capping.  Building on this, UrbanThings and Littlepay are now bringing additional features to passenger apps that make use of this valuable data. The first such integration means that passengers who register their contactless cards, then tap when boarding or paying on-board, will be able to view their journey and payment history within new and existing Passenger Apps, making understanding charges easier and providing a streamlined customer support experience.
"UrbanThings and Littlepay share the same goals to create a seamless and user-friendly travel experience, so we're very excited about the deployment of the journey history integration. This will help operators give better transparency for passengers, offering them a pleasant customer experience and encouraging the use of shared transport. "
Guy Sutherland, Head of Bids and Partnerships, UrbanThings
This exciting move will enable operators that have a contactless deployment with Littlepay to give their passengers better transparency about their journeys and the fares they pay.  In addition, a new Customer Service integration will make it easier for passengers to get help relating to a previous journey, such as locating an item of lost property.
Passengers will be able to access a unified payment and travel history via UrbanThings mobile apps, regardless of whether they use contactless or mobile payments. By enabling push notifications, they can receive real-time updates that keep them in the loop about what they are spending on travel and when they hit a fare cap – after which travel is free.
Cards can be registered by registering in External cards and selecting, 'Add new card' as shown below. Existing registered cards are shown in the same screen.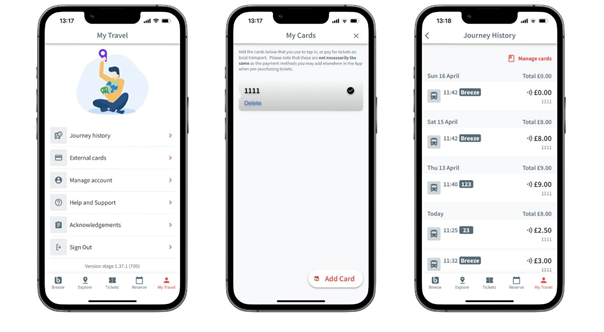 Journeys where this card has been used are then shown in the journey history screen, as above.
The integration will be deployed on the Newport Bus mobile app before being rolled out to all customers over the coming months. UrbanThings and Littlepay will continue to evolve their partnership, harnessing the power of a state-of-the-art data platform and robust contactless payments to enhance passenger experience.
Morgan Stevens, Operations Director at Newport Transport explains: "Speaking to customers, they like the simplicity of the app, and this add-on will increase its reach. The new journey recording feature will make it useful for customers who only need single tickets and who only use the app to track their buses. It will also make it simpler for passengers to contact us about specific journeys and simpler for our customer service team who needs the data respond."
Sheryll Ricketts, Solutions Consultancy Lead at Littlepay commented: "We're excited to empower operators with an omni-channel communication platform that will enhance the contactless customer experience. Giving all riders visibility of their journey history, payments and fare caps, regardless of their payment method, is a great example of how operators can put customers first. As our partnership with UrbanThings continues, we look forward to delivering further innovations that will help operators increase ridership and improve rider Experience."