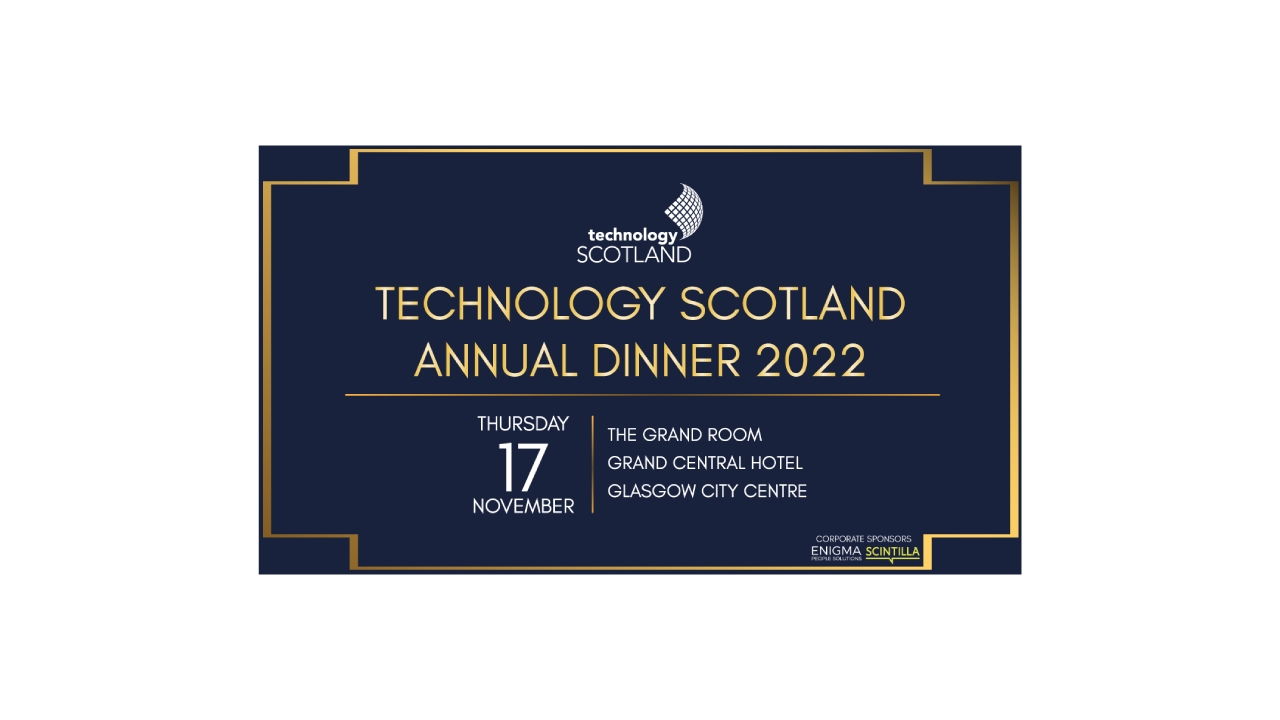 Technology Scotland Annual Dinner 2022
Join us for our 6th Technology Scotland Annual Dinner 2022 and celebrate the achievements of our sector.
When: Thursday 17 November | 1800 – 2330
Where: The Grand Room, Grand Central Hotel, Glasgow City Centre
This event is the biggest in our calendar and welcomes around 200 attendees from across all three of our networks for an evening of networking and celebrations, creating new connections and helping to solidify those already established.
It's a great opportunity to catch up with colleagues old and new from across the sector, enjoy an evening of celebrations with your team, and recognise the great work happening across the Technology Scotland community.
Here's a taster of what to expect on the evening:
Welcome drink on arrival and networking drinks reception
Opportunity to hear from Suzie Imber, our engaging after-dinner speaker
A fantastic three course meal with wine
Plenty of time to network across the evening
Sponsorship
Interested in raising the profile of your organisation within the Technology Scotland community? Become a sponsor of our Annual Dinner and position your organisation in front of a range of key players with our sponsorship opportunities.
About our after dinner speaker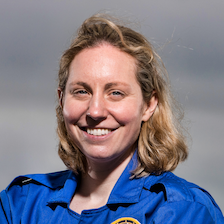 Suzie Imber is an Associate Professor at the University of Leicester, specialising in studying the environments of the planets in our solar system. Through her work, Suzie continues to reveal the links between space research and innovations that can help foster better climate resilience back here on Earth.
As well as her academic work, she undertakes public education programmes to increase understanding of science, and travels to some of the most inhospitable places on the planet. She also won BBC Two's search for future astronauts.
Heavily involved in the European Space Agency's BepiColombo mission to Mercury, Suzie's research group built instrumentation that the craft carried. Her other area of expertise is Space Weather; using a combination of ground- and space-based instrumentation to better understand the influence of the Sun on near-Earth space. This work has significant implications due to our increasing dependence upon satellite technology, and also as we look at the chances of colonising first the moon, then Mars.
Away from the lab and the lecture theatre Suzie is also a high altitude mountaineer, having climbed in Alaska, the Himalayas and the Andes. She generated the first objective list of mountains in the Andes using a supercomputer she programmed, and in doing so, discovered dozens of uncharted mountains. She has since launched three expeditions to one of the most remote environments on the planet, gaining first ascents of many of these mountains, and even finding Inca ruins on the summits.
Suzie was also the winner of the BBC's Astronauts: Do You Have What it Takes, in which contestants underwent an astronaut selection process under the supervision of Chris Hadfield. During the tests she spun in a centrifuge, took her own blood, visited a NASA research facility on the ocean floor in Florida, and experienced a microgravity flight. Importantly she had to demonstrate leadership, communication, calmness under pressure, and the ability to work well in a high-performing team. Since the competition she has been the first graduate of the Qinetiq astronaut training programme, and now works with the UK Space Agency, NASA, Qinetiq and Virgin Galactic.
From satellites to how to deal with risk, from the future of science and research to the importance of planning, Suzie tackles a wide range of subjects with energy, insight and humour. She also reveals what various tools and instrumentation used in space say about the prospect of sustainability for our planet – from the monitoring of natural hazards and glacial thinning to identifying sites of modern slavery.