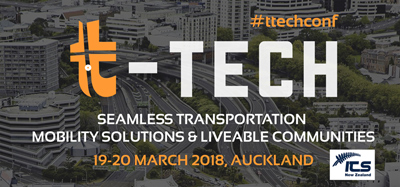 We are delighted to announce that MaaS Scotlant Programme Manager, Dr. George Hazel, will deliver a talk at T-Tech Transport Innovation Conference taking place in Auckland, New Zeland, on March 19th and 20th 2018.
Examining trends, innovations, challenges and opportunities the T-Tech Transport Innovation Conference is organised by Intelligent Transport Systems New Zealand (ITSNZ).  Featuring presentations by world-renowned thought-leaders, senior experts, academics and innovators. T-Tech aims to inform and inspire attendees, looking at international ideas and activity and examining New Zealand's own activity and strategies.
New and superior technology, new modes of transport, emerging business models and better connectivity are creating opportunities to improve transport networks and urban design that will create better communities, efficient, sustainable and safer transport for people and business.