Humza Yousaf MSP, Minister for Transport and the Islands, to speak at MaaS Launch Event
MaaS Scotland is delighted to announce Humza Yousaf MSP, Minister for Transport and the Islands, as the Closing Address Speaker at our MaaS Scotland Launch Event in September.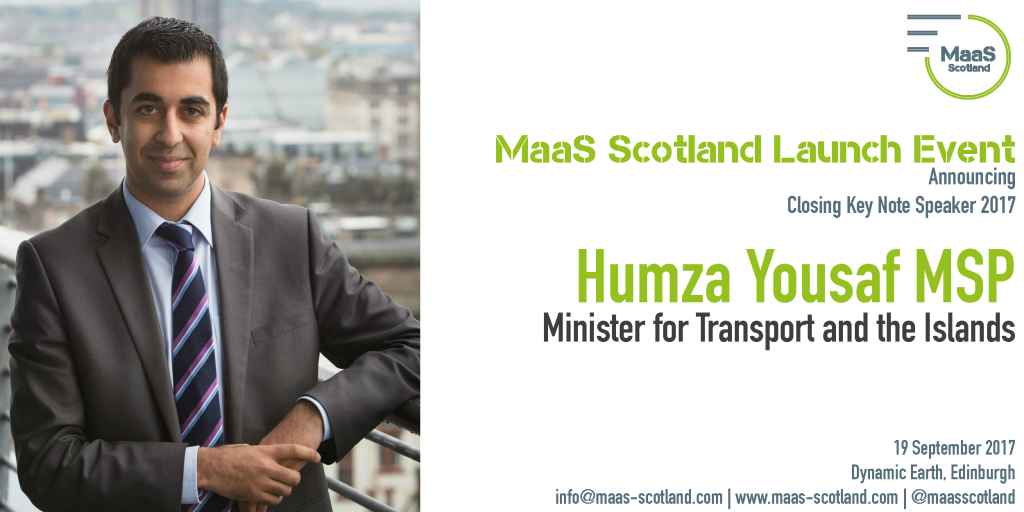 This one-day conference will take place at Dynamic Earth in Edinburgh on 19 September 2017. With a number of high-profile speakers confirmed, MaaS Scotland invites guests to hear from a range of pioneering companies and organisations involved in Mobility as a Service, in addition to finding out how they can get involved in ongoing and upcoming projects. Tickets and full details will be available via Eventbrite very soon. To receive the MaaS Scotland newsletter, sign up here.
About Humza Yousaf MSP, Minister for Transport and the Islands
Humza Yousaf is a Member of the Scottish Parliament for Glasgow Pollok and Minister for Transport and the Islands in the Scottish Government.
Born in Glasgow on 7th April, 1985, he graduated from the University of Glasgow with a degree in Politics. He went on to work in the Scottish Parliament as an aide to the late Bashir Ahmad MSP before he was elected as an MSP for the Glasgow Region in May 2011. He was also a Parliamentary Liaison Officer to the former First Minister Alex Salmond and was appointed Minister for External Affairs and International Development in September 2012, before taking up his current ministerial role in May 2016.
Humza has been involved in community work, from youth organisations to charity fundraising for most of his life, including being media spokesperson for the international non-governmental organisation Islamic Relief. He also volunteered for community radio for 12 years and on a project providing food packages to homeless people in Glasgow.
He is also an alumnus of the US State Department's prestigious International Visitor Learning Programme. His interests include tackling mental health stigma, poverty, civil liberties, and issues affecting young people.
To receive all news alerts on the MaaS Scotland Launch Event, sign up to our newsletter and follow @MaaSScotland on Twitter.