Innovative UK businesses working in the advanced urban services sector can meet potential customers, partners and investors in Melbourne.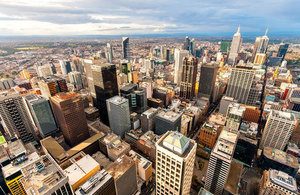 Applications are open for Innovate UK's 2018 Future Cities delegation to Australia. The mission – taking place from 12 to 16 March 2018 – is a valuable opportunity to build new business collaborations overseas.
Why Australia?
Australia is a highly urbanised country. In 2014, 89% of the population (21 million people) lived in urban areas. The urbanisation rate is forecast to reach 93% (of 31 million people) by 2050. Among the challenges that Australian cities face are:
an ageing population
resilience to climate change
water scarcity
urban sprawl
housing affordability
congestion
The country has recognised the importance of cities to its economy, and the need to adapt to improve productivity and accessibility.
Benefits of taking part
By attending, you'll learn about market opportunities and business culture. You'll develop a tailored pitch and then travel to Australia to meet prospective partners, investors and customers. You'll also have the chance to visit pioneering future cities projects in Melbourne.
Importantly, it will help you to raise your company profile in one of the biggest smart cities markets and get advice from the Department for International Trade on exporting globally.
Who should attend
To be eligible for Innovate UK's 2018 Future Cities mission you must:
be a UK-registered micro, small and medium-sized enterprise (SME)
have been trading for at least one year
be looking for Australian customers, partners or investors within one of the following areas:

infrastructure, such as energy, waste and water management, telecoms, security and safety and the built environment
smart mobility, including transport, parking, traffic management and road safety
governance, for example, urban planning
health, such as assisted living, telehealth and air quality
technology infrastructure, including the Internet of Things, systems integration, data analytics and smart grid
Mission information
applications are now open, and the deadline is 24 November 2017
you can attend a recruitment webinar on 14 November 2017, or a one-day event in Manchester on 17 November 2017 to meet an Australian trade delegation
up to 20 businesses will take part
successful businesses will pay travel and event costs