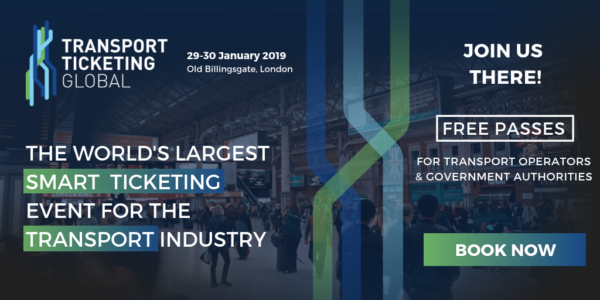 Transport Ticketing Global 2019: 20% discount for MaaS Scotland members!
When: 29-30 January 2019
Where: Old Billingsgate, London
USE CODE MSS20
Transport Ticketing Global is the largest public transport event focused on smart ticketing, passenger information systems and smart cities, attracting over 900 transport professionals from transport operators, local authorities and smart transport solution providers from over 50 countries.
Pertinent and engaging conference sessions
Featuring a three-theatre conference, the event explores a global vision for intelligent, interconnected, inclusive and cost effective public transport with high-level keynote speakers, case studies from transport innovators, in-depth analysis and panel discussions.
Meet leading technology providers
The event provides a first-hand view of the latest technologies on display in the 80-stand exhibition hall. View the event sponsors and exhibitors here.
Join the industry's most influential bodies, at the World's largest and most exciting dedication event for smart transport.
Members of MaaS Scotland can use the code MSS20 for a 20% discount on the standard ticket price – Register here.
FREE PASSES are available for Transport Operators, Government & Local Authorities
Event Partners include:
Transport for London, NFC Forum, Rail Industry Association (RIA), South West Smart Applications, Urban Transport Group, OSPT Alliance, Calypso Networks Association, Rail Delivery Group and Consult Hyperion.