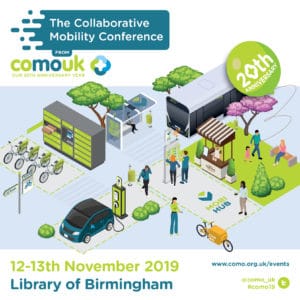 The Collaborative Mobility Conference from CoMoUK | 12 – 13 November 2019 | Birmingham
CoMoUK are pleased that Professor Greg Marsden, Institute of Transport Studies at the University of Leeds, will join us for our conference and will be showcasing the newly published Shared Mobility Inquiry report at this year's conference. We are also joined by Mike Waters, Director of Policy, Strategy and Innovation at TfWM who will set out West Midland's ambitions to be a Future Mobility Zone and their plans for getting there.
Across the day and a half, we will be exploring the latest developments in the fast-moving sector of shared transport and getting under the skin of its successes and challenges. As the charity for the public benefit of shared mobility, this is a fascinating moment for authorities, operators and stakeholders to come together. We do hope you can join us; details of how to get involved are below.
The conference will begin on the afternoon of Tuesday 12th November where we will drill down into current live issues for each mode with facilitated discussions on shared cars, bikes, rides and e-scooters. On Wednesday 13th November as well as our keynote speakers there will be a rich variety of sessions exploring themes such as regulation frameworks, MaaS, social inclusion and partnership between public and private sectors.
On the evening of 12th November CoMoUk will be celebrating its 20th Birthday at Hyatt Regency Hotel in Birmingham city centre from 7pm. All delegates are welcome to join us for a buffet, drinks, birthday cake and a nostalgic look at two decades of shared mobility,
You can now book you place at the conference. Bursary places are available to public sector organisations on application.