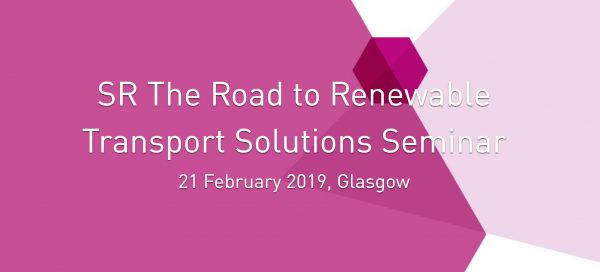 SR: The Road to Renewable Transport Solutions Seminar
When: 21 February 2019
Where: Glasgow
With real momentum behind the policy ambition to decarbonise our transport sector this seminar brings together leaders in the field to discuss how to keep our action on track, and the role for Scotland's renewable energy sector in this transition.
Transport affects all parts of our lives, from the price of goods on supermarket shelves to the practicality of our daily commute.
A change in how we fuel this sector will impact all of us in a variety of ways.
This event firstly considers decarbonisation of our road vehicle fleet; the changes in consumer behaviour required, how utility business models are already adapting and how some of this change is being financed. We then move beyond road transport to consider how other areas of our transport system – including aviation and shipping – can become cleaner.
Who should attend?
This event will be of value to a wide range of professionals involved in the energy sector. From those with an interest in how renewable energy generation will interact with a decarbonised transport system to professional services, financiers and suppliers – our expert speakers will share valuable insight into the future of transport in Scotland and beyond.
Why attend?
With the direction of travel firmly set, particularly with the Scottish Government's phase-out of new petrol and diesel cars by 2032, this event provides an opportunity to understand how these policy ambitions will impact your business.