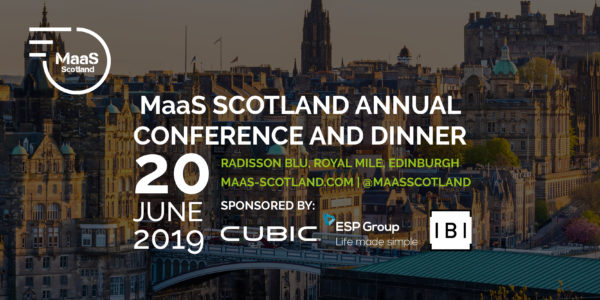 MaaS Scotland Annual Conference and Dinner
Sponsored by Cubic, ESP Group and IBI Group
When: 20 June 2019, 09:00 – 17:00 (conference) – 18:00 – 23:00 (dinner)
Where: Radisson Blu, Royal Mile, Edinburgh
The MaaS Scotland team is delighted to announce the return of its Annual Conference, an event that continues to bring together representatives from across Scotland, the UK and Europe to discuss recent developments and projects in the area of Mobility as a Service. New for 2019, a networking dinner and drinks reception will follow the conference into the evening.
Now in its third year, The MaaS Scotland Annual Conference has established itself as a focal event for those engaged in the development of future mobility solutions. Attendees can expect to meet with a range of figures from across the MaaS supply chain, from technology providers and systems integrators to transport operators and regional and national transport authorities.
On the day, attendees will hear from a diverse range of local and international speakers exploring recent developments and projects in areas including:
Rural connectivity
Inclusive mobility services
Investment and business models
Modal shift and active travel
Post conference, we would love you to join us in the Radisson Blu for an exclusive drinks reception and networking dinner, giving you time to catch up with delegates and invite colleagues and clients to join you and find out more about the MaaS community here in Scotland and beyond!
In the meantime, if you're interested in speaking on the day or sponsoring the event, please get in touch below.