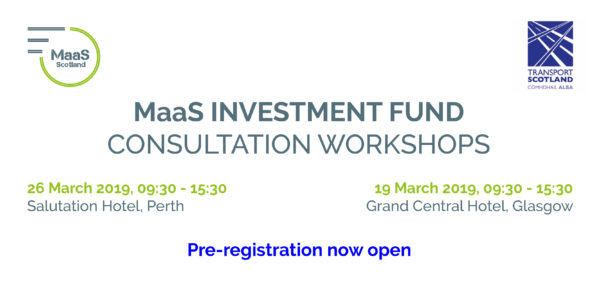 MaaS Investment Fund Consultation Workshops: Glasgow and Perth
GLASGOW: 19 March 2019, 09:30 – 15:30, Grand Central Hotel, Glasgow
PERTH: 26 March 2019, 09:30 – 15:30, Salutation Hotel, Perth
Please note that these workshops are initially limited to 1 place per organisation via a pre-registration process. Additional attendees will be considered if space allows. Attendees will receive confirmation of their place via email.
Interest in Mobility as a Service (MaaS) has grown within Scotland over the last 12 months, led by a diverse network of public and private sector organisations that are keen to exploit this opportunity and position Scotland as a world leader in this emerging market. This was highlighted in September 2018 when The Scottish Government announced that it will invest up to £2 million to support the testing of MaaS in Scotland. This concept has the potential to transform the way we consume transport by making public and shared transport options as desirable as owning our own car and the Scottish Government aims to facilitate growth and innovation in this area, building on strengths and skills already in Scotland.
Since this announcement, Transport Scotland has been working to identify those areas where MaaS will have most impact in Scotland's society and also reflect the Scottish Government's agenda to promote public transport and active and sustainable travel, for a fairer, healthier, greener Scotland. This work will ultimately lead to the development of a programme framework to be launched later in 2019. Thematic areas for consideration include:
Rural, island and communities
Tourism
Accessibility, tackling inequalities & mobility
As part of this scoping exercise, MaaS Scotland and Transport Scotland will host two consultation workshops to gather the views of local MaaS ecosystems from a range of external stakeholders. These events will be crucial in refining identified thematic areas to ensure maximum impact is achieved through the project framework.
DRAFT AGENDA
0930 Registration and coffee
1000 Welcome and background (MaaS Scotland)
1015 Introduction to the Maas Investment Fund (Transport Scotland)
1100 Presentations of thematic areas
1230 Lunch
1330 Round table discussions
1530 Close