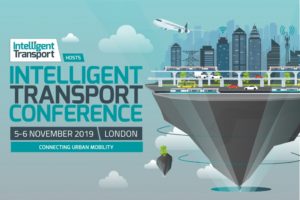 Intelligent Transport Conference | 5 – 6 November | London
For 2019, the Intelligent Transport Conference is turning its full attention to connecting urban mobility, bringing expert speakers together in front of operators and authorities to explain exactly how to meet urban mobility challenges and offer intelligence that comes from the experience of successful projects and implementations. With case studies presented to industry leaders and influencers, it will be a buzzing hive of information sharing and transactional business discussions.
ITC 2019 will be firmly rooted in the now, but will also take an in-depth look at the not-too-distant future of urban mobility, from implementing multimodal ticketing schemes and MaaS, to connecting infrastructure through IoT and 5G networks, and beyond to rolling out e-mobility solutions. Delegates will be able to discover how to implement new solutions that improve their services in a way that works for them.